..Want a Wardrobe with a Twist?
Yes, I meant that literally and metaphorically because I have just finished
crocheting 3 brand new necklaces called "With a Twist"!
They have a twist to them as they're
different
and they physically twist!
In the newest H&M magazine, they say that your wardrobe should be
more daring.
People are too afraid to
stand out
and tend to express themselves by toning it down.
In addition, many of the clothes that are
in style
now, are crocheted or look crocheted at least.
What isn't a better way to:
- stand out
- look stylish
- wear something different
- be individual
- support handmade
- wear handmade
- wear what's in style now
...than wearing one of these new necklaces?
This first piece is
black
- the colour that never goes out of style. You'll be super stylish if you wear a black, crocheted, one of kind accessory to accentuate your bold side.
These
fab
pieces are crocheted using Egyptian cotton - you can really see how pretty the yarn is because it has a
unique shine and glow. It's soft too!
This necklace is a
rustic orangey gold
. The camera can't capture it's true elegance, as it looks too orange with the flash on, but too bland with it off. I hope you like it!
Finally, here we have it in
brown
, and below you can really see how it twists - up close.
for 130 NOK / $24 per piece or by commenting below.
Are you willing to take a chance?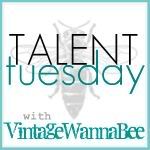 I'll be linking this post up to Vintage Wanna Bee's Talent Tuesday linky party :)
PS. Be sure to follow my blog --->
There will be a give away soon, so you'll want to check back ;D